SOCIAL FARM ACTIVITIES FOR RURAL MANAGEMENT SERVICES COURSE
1. INTRODUCTION TO SOCIAL FARM MANAGEMENT
The Social Agriculture has its roots in the values of solidarity and community of the rural world and in the natural environment, and it is multifunctional, combining the traditional food production function with the ability to favour the rehabilitation of persons with mental and social disorders (Van der Ploeg J., 2003, Pascale A., 2009).
This historical reference has been developed as a theoretical framework generally called Green Care defined as an active process that is intended to improve or promote physical and mental health and well-being not purely a passive experience in a natural environment. (Nilsson K., Baines C. and Konijnendijk C., 2007)
Starting from these concepts the Social Farm Management has been developed as a specific theoretical and practical framework of knowledge, competences, skills and abilities for professional farmers specialised in this kind of activity and therapy rehabilitation paths targeted to vulnerable persons with special needs and involving social-health services, local communities, employment offices and families.
As a professional category the Social Farm Manager is therefore an entrepreneur with high level knowledge in the field of rehabilitative paths for persons with mental disabilities and social troubles through work integration within farm environments adapted to this scope.
The Social Farm Management has many different dimension and elements that address the varied needs of different persons under their personal and tailored rehabilitation path: for example, two of them participating in the same activities may benefit in different ways.
There is a need, therefore, to describe the processes involved in order to define the intervention to show how the different dimensions and processes are related and to what extent the different approaches within the Green Care context are interconnected.
This theoretical and preliminary approach will be shared and discussed with persons responsible for Health and Social Services so that the Social Farm Manager can adapt the care farm program to the different subjects according to the recommendations of the psychiatrists and psychologists sending the
persons in placement, explaining the program to the parents and organize the daily agenda together with the Social Farm Tutor.
The Social Farm Manager (SFM) can be defined as the person responsible for planning and managing the program of farm activities targeted to persons with special needs in cooperation with the Social and Health Services.
He or she, as an entrepreneur if owner or as a manager, in case of employee managing this task on behalf of the farm owner, will undertake all initiatives making the farm suitable to welcome, train and start up to work vulnerable persons within a rehabilitation path.
Under this respect the SFM can be considered, in terms of competence, as a provider of inclusive on farm training courses and placements targeted to vulnerable persons with different kinds of mental, social or behaviour disorders.
As a social entrepreneur he or she will be skilled not just for managing farm activities planned and adapted to persons with different kinds of mental disability but are also able to motivate the Social Farm Tutor (SFT) and create an atmosphere of empathy in carrying out the care farm program for trainees starting from their inclusion and integration skills (Soft Skills) and improving their daily learning-by-doing field experiences (Hard Skills).
The Social Farm Manager will be responsible for:
adapting the farm environment to host persons with special needs;
planning the social farm activities;
managing, mentoring and training internal human resources;
running relationships with social cooperatives, parents' associations and individual families;
carrying on relationships with employment, social and health services;
participating to social farming networks.
2. ADAPTING A FARM TO SOCIAL AGRICULTURE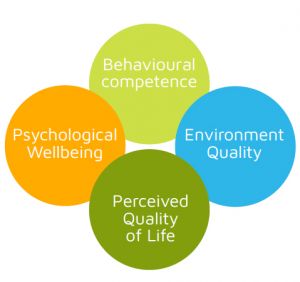 A theoretical background to start thinking on adaptation of the social farm to persons with special needs is necessarily linked to a knowledge on Quality of Life (QoL) models.
In the social sciences, QoL refers to material well-being and people's feelings about the adequacy of their lifestyle. In the medical sciences, QoL refers to the Health-Related Quality of Life (HRQoL) in which attributes of health status and life quality factors are emphasized and interconnected (Lawton M. P.,1983).
The QoL is high when the hopes and expectations of one's ability to function match the perceived situation (McDowell I., 2006).
QoL Models can be used to assist resource allocation and to assess the impact of policy decisions (Rogerson R., 1995).
In health care QoL is an outcome measure used in evaluating treatment outcomes mainly from a patient perspective, so distinguishing the program effects depending on different persons with results that can be compared by measuring their QoL also in case of adverse effects.
The social farm adaptation plan will include all implementation and changes needed to transform a conventional farm into a place accessible to persons with mental and social gaps and comfortable for their work and leisure time.
Fields, open spaces, buildings and facilities should be analytically revised according to the principles of design for all based on accessibility, inspired to the experiences of ENAT (https://www.accessibletourism.org/) and adapted to be comfortable for persons with special needs and favourable to their work integration.
All planned care farm activities will be based obviously on seasonal works and weather conditions so that the planning can also be slightly varied in terms of postponement of some outdoor activities substituted by indoor activities but always following a program targeted to each trainee.
Combined with full attention to improvement of soft skills, such as mutual confidence and good relations, the individual care farm planning has to empower also hard skills based on work-shadowing with a social farm tutor and accomplishment of assigned tasks.
A general QoL scheme of farm adaptation can be designed starting from the key factors to be known before beginning the placement and the related individual program. The main factors to be analysed are focused on kinds of unease (mental, behaviour or social disorders), soft skills assessments, interests and potential talents of the trainee with special needs and individual program sharing with the family. This phase will be managed together with the health and social services and will bring to an individual report of Characteristics, training and placement program and a placement road map including task analysis, ongoing observation of the daily program and reports. The results will be shared, analysed and discussed with the social health services and the family.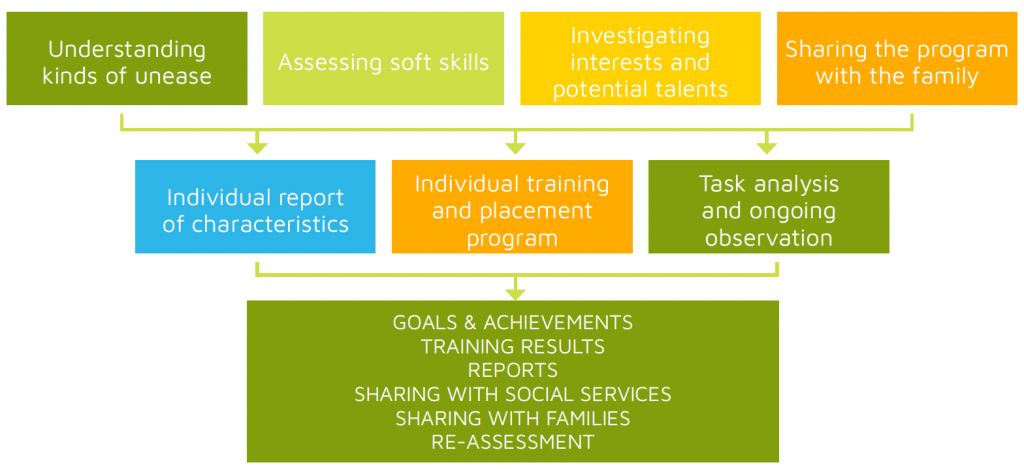 Social farming is intended as a specific occupational and leisure therapy in a green context supporting the attitudes of trainees with different kinds of impairments and favoring their evolution towards satisfying and productive lives not strictly dominated by their work performances but combining their job activities with wellbeing.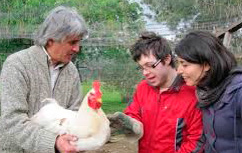 A person's daily occupation can be limited as a result of health problems such as a mental illness, an oppressive work environment or social life difficulties, as in the person-environment-occupationperformance (PEOP) model (Christiansen L. et al, 2005).
The ex-ante analysis of the key factors, as a preliminary activity to be performed by the social farm manager in collaboration with the health and social services, leads to an in-depth knowledge of the kinds of impairments to be tackled and constituting therefore the reference framework for the individual program coping with kinds of distress that can be foreseen and overcome.
The farm adaptation, that will be in general based on unstressed work and leisure environments, in terms of individual programs will be focused on facing the specific kinds of impairments that can obstacle a sound placement.
The background knowledge and awareness on kinds of impairment needed by the Social Farm Manager highlights the importance of connecting the ex-ante evaluation with the individual program adapting training and work environment to the characteristics and cognitive status of the trainee.

Cognitive disorders are a category of mental health disorders that primarily affect cognitive abilities including learning, memory, perception, and problem solving. Developmental cognitive disorders or Learning disabilities are commonly divided into 'mild', 'moderate', 'severe' and 'profound', and these categories are based on Intelligence Quotient (IQ).
Mild and moderate learning disabilities are often defined as an IQ between 35 and 69 and severe learning disabilities as an IQ of 34 or below with impairment of adaptive functioning with onset in childhood.
Starting from the IQ evaluation, all kinds of impairments are analyzed in depth by the health and social services and a Social Farm Educator (SFE) will accompany the trainee to be placed and trained since the beginning up to the complete adaptation of the subject to the place and work activities. These specific function and tasks will be described within the Module 3 of this course.
Starting from the ex-ante evaluation on kinds of impairments of the trainee the Social Farm Manager will adapt the various workplaces and laboratories to the individual program that will be shared with the health and social services.
The individual program will be inspired to a vision based on social inclusion, integration and rehabilitation of vulnerable persons with the objective to set up a workplan adapted to the specific characteristics, such as kinds of mental disabilities or social troubles, interests and emerging talents of the trainee, with a tailored training and placement design that will be performed day-byday in work shadowing by the social farm tutor.
Task of the Social Farm Manager will be therefore, after the adaptation plan, also a coordination of the daily activities to be performed by the trainees  with the support of the social farm tutor and possible small changes based on ongoing evaluation of results.
The social farm will be adapted in the best way that can make it a comfortable, accessible and safe place to host training and work activities of  vulnerable persons, each of them placed and followed up along their own tailored individual program.
A preliminary attention will be paid to outdoor spaces in the social farm placement and work sectors with a specific check for preclusion to poisonous, thorny and common plants causing danger and allergic reactions, and dense vegetation which may obstruct movement and visual exploration.
Same carefulness is necessary in the rooms where work and rest time will be spent by the trainees with special needs to avoid them any kind of stress, lack of comfort or risk for their safety.
In addition to these practical issues to be examined and solved, participants must also feel welcome, safe and at ease, in a culturally sensitive, natural and comfortable environment.
Physical, cognitive and social accessibility are all particularly important for social farms where greenspaces are targeted for use by vulnerable people and adapted depending on their specific impairments.
The psycho-educational rehabilitation aims to teach skills and abilities that influence the cognitive aspects. A well adapted social farm takes into consideration not just the limits but also the advantages from stimulating autonomy and independent growth of the trainee.
Each planned activity should be measurable against the abilities acquired in carrying out specific tasks or learning from work and leisure time activities, functional communication and interpersonal communication. This implies that all hard and soft skills learnt by the trainee from the performed activities should be available, suitable and repeatable for following same or similar tasks and relationship contexts.
The role of the Social Farm Manager will be therefore not limited to the farm adaptation and organization of the individual programs for the trainees but also consisting in the follow up of the activities managed by the Social Farm Tutor and making possible changes in the program according to an ongoing assessment process performed in cooperation with the Social Farm Educator and the health and social services.
The SWANS project created a feasible job placement model for autistic persons with various degrees of socialization problems and different skills and abilities, thus contributing to monitoring evaluation tools, operational difficulties connected with work contexts, and support and tutoring methods for overcoming such obstacles (Canalicchio M., De Clercq H., Howlin P., Montagnoli L., Peeters T., Pierini A., et al., 2013).
The SocialFARMS project aims to demonstrate that the model and management tools created for persons with autistic spectrum disorders (ASD) can be transferred to other categories of persons with various kinds of mental, social and behavioral disorders and specifically developed within social farm contexts as ideal locations for rehabilitative placement and training by the triad Social Farm Manager, Tutor and Educator.
The Individual Therapeutic Rehabilitation Project (ITRP) places the person at the centre and it is elaborated within a multidisciplinary team with complementary roles and competences starting from the ex-ante evaluation on kinds of impairments and abilities of persons with special needs to be placed and trained, making them more autonomous, social and skilled.

Accessibility is a factor of person-environment fit and refers to the degree to which people with different abilities can access the environment.
We can refer to different kinds of abilities, intended as attitudes, capabilities, skills or talents but we can more in general define them as practical or theoretical, both connected to cognitive abilities referring to the environment in which the information needed to think and act is understandable to the users, involving interconnected social and vocational abilities giving access to knowledge and work.
The chart-flow here below shows the connections bringing to vocational needs and employability passing through the social farm inclusion and rehabilitation programs.

3. PLANNING SOCIAL AGRICULTURE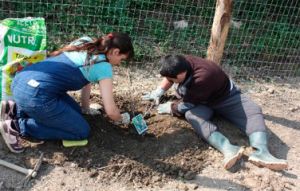 Farmhouses and their surrounding arable land and greenhouses can become a perfect place to be adapted for placement of persons with different kinds of impairments.
Courtyard animals can offer the opportunity to engage persons with mental and social troubles in their care and management.
It is not necessary in most cases to change radically the productive assets but just arrange feasible work paths to host adequately trainees with special needs and adapt the daily work to their characteristics and behaviors.
Open fields can be limited within small plots of land where labor and training activities can give day-by-day the evidence of the work done and the results shared between the tutor and the trainee or within a group.
Kitchen gardens, small production of vegetables and aromatic herbs are very useful for this kind of individual and group therapeutic approach because they can be very practically managed and worked out by the tutor in collaboration with one ore more trainees.
Planning a social farm production addressed to the solidarity and community supported market, farmers' markets or general retail market, is obviously more ambitious than produce for internal consumption as a therapeutic individual or group path because it means to face the market and sell to consumers food products under a social farm brand and, in case of organic production to get the related certification.
This approach should be therefore considered as an opportunity for the employment of persons with impairments hosted in the social farms and headed towards an economic work activity, including therefore in the aims of the cooperative also the final scope of the employment.
This implies the choice of the legal configuration for the social farm, such as a social cooperative involving the persons with the various kinds of impairments as members and workers.
There are different legislations in the European Union defining different kinds of social cooperatives (see the SocialFARMS State-of-the-Art from Austria, Italy, the Netherlands, Spain and Turkey).
A general overview of the farm should be provided to demonstrate the potential offer, the practical field and lab work paths starting from the  presentation on a nutshell of all available facilities and services.
More in details how the social farm works should be presented: crops and animals are the centre of agricultural activities, so the way to present their availability and adaptation going through the person centred rehabilitative path is a key approach for the Social Farm Manager.
Social farming is commonly associated to organic or integrated agriculture: the vision on kinds of farm process and products can integrate therefore the mission stated as a social farm with a specific focus on the way in which trainees with special needs are directly and safely involved in the farm activities.
This education and training approach is called learning-by-doing and it is based on a well done design that will be performed by a Social Farm Tutor with one or more trainees, accompanied in the first period of placement by a Social Farm Educator (see Module 3), sent by the social health services or by a social cooperative, in charge of favouring the inclusion at work of the person to be trained.
4. FIELD AND LAB SOCIAL FARM PROGRAMS
Social agriculture has been developed throughout Europe according to national and regional laws or rules, inspired to different theoretical models and practical experiences depending on countries, but with similar approaches.
Starting from this background, it is possible to collect from national experiences essential schemes of field and lab social farm programs, constituting a useful portfolio of evidence for the work of the Social Farm Manager.
The common aspects of social agriculture in Europe depend on the social demand for assistance, rehabilitation and care, intended as public goods that can be undersupplied by the agricultural multifunctional farm system.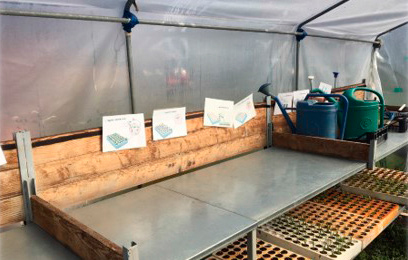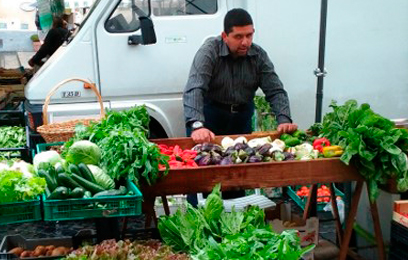 As an area of multifunctional agriculture, social farming provides the society with social public goods an enlargement of care and rehabilitation spaces out of traditional hospitals and shelters within a green community dimension.
All together the field and lab social farm programs can be considered a notable and innovative part of the efforts made since the middle of the last century to recover patients with intellectual disorders or social troubles upon reintegration into a social life outside psychiatric hospitals.
5. SOCIAL FARM WORK ASSESSMENT AND COMPETENCE BALANCE
The approach adopted (Pavoncello, 2018) sees Social Agriculture, through the implementation of best practices, not only as beneficial to local economic development, but also as a promoter of:
Social inclusion of disadvantaged people
Improvement of the quality of life through tailored pathways
To work efficiently, a Social Farm requires a manager that is capable of integrating, in such a complex and multidimensional reality, various specialized professions as a team where everyone practices and shares their expertise.
The Social Farm Manager ensures that all the activities implemented by the professionals within the Social Farm's network are oriented towards the achievement of the same goals.
The success of a Social Farm Manager depends also on his capability of:
being part of
moving within
each subsystem that constitutes the Farm (Minuchin, 1974), as by listening, interpreting and moderating requests and difficulties coming from various subsystems, he/she also monitors the process towards achieving the set objectives.
A Social Farm is never an isolated context, but part of a larger integrated system (Bronfenbrenner, 1979) where exchanges occur constantly.
Hence the other major responsibility of the Social Farm Manager: the interaction and exchanges with the outside world where the Social Farm takes, but thanks to the best practices, also gives back something transformed for the better.
But how to evaluate a social farm efficiency and efficacy from a Social Farm Manager's point of view?
Social farm manager can be defined as a person responsible for planning and managing a program of social agriculture.
Customer satisfaction measures how products or services provided meet expectation.
Empathy is the ability to understand and share the feelings of another.
Employment services are offices in charge of finding jobs for unemployed.
Gantt chart is a type of bar timetable that illustrates a project schedule.
Green care refers to natural environment favourable to care of people with special needs.
Learning-by-doing is an education methodology based on practical learning.
Special needs refer to educational requirements due to learning difficulties or disabilities.
Pet-therapy and hyppotherapy refer to Animal Assisted Therapies with pets or equines.
Portfolio of Evidence is a showcase of skills and task accomplishments.
Risk management is the forecasting and evaluation of potential risks together with the identification of procedures to avoid or minimize their impact.
Self-esteem is an overall subjective emotional evaluation of her/his own worth.
Social cooperatives are companies devoted to provide services and work for persons with special needs, such as persons with physical or mental handycaps or social troubles.
Social-health educator can be defined as an employee of the social-health services or cooperatives skilled in assistance to persons with special needs.
Social-health services are public units in charge of socail and medical assistance.
Social rehabilitation is a process aimed to include in the society disadvantaged persons.
Space enlargement is defined by psychiatrists and psychologists as the opportunity given to persons with social-health disorders to experience nonhospital contexts.
Universal design is the design of buildings, products or environments to make them accessible to all people, regardless of age, disability or other factors.
Vulnerable persons people with weak points or disadvantages.
Work-shadowing is a training experience based on performing a work
together and with supervision of a person holding full skills on a specific
professional competence
Anthony, W.A. (1993). Recovery from Mental Illness: The Guiding Vision of the Mental Health Service System in the 1990s, Psychosocial Rehabilitation Journal, 16(4), 11-23.
Berger, R. and McLeod, J. (2006) 'Incorporating nature in therapy: a framework for practice'. Journal of Systemic Therapies.
Berget B. (2008) Animal assisted therapy: effects on persons with psychiatric disorders working with farm animals. Ass: University of Life Sciences of Ass, Noorwegen.
Bronfenbrenner U. (1979), Ecologia dello sviluppo umano. Tr. It. Il Mulino. Bologna, 1986.
De Rosa M., McElweeb G., Smith R. (2019) Farm diversification strategies in response to rural policy: a case from rural Italy.
De Vries, S., R.A. Verheij, P.P. Groenewegen & P. Spreeuwenberg (2003) Natural environments, healthy environments? An exploratory analysis of the relationship between green space and health. Environment and Planning.
Giare F., De Vivo C., Ascani M., Muscas F. (2018) L'agricoltura sociale: un modello di welfare generativo.
Hassink J., Grin J., Hulsink W. (2013) Multifunctional Agriculture Meets Health Care: Applying the Multi-Level Transition Sciences Perspective to Care Farming in the Netherlands.
Hassink J. et al. (2016) Entrepreneurship in agriculture and healthcare: different entry strategies of care farmers, Journal of  rural studies, Elsevier.
Hassink J., De Bruin S., Berget B., Elings M. (2017) Exploring the Role of Farm Animals in Providing Care at Care Farms.
Kendall, K.S. & M.B. Kenkel (1989) Social exchange in the natural helping interaction. Journal of Rural Community Psychology.
Minuchin S. (1974), Families and Family Therapy, Harvard University Press, Cambridge (MD)
Nicolosi A. ,Laganà V.R., Di Gregorio D., Privitera D. (2021) Social Farming in the Virtuous System of the Circular Economy. An Exploratory Research.
Pavoncello D. (a cura di) Agricoltura Sociale: un laboratorio di inclusione per le persone con disabilità. INAPP Public Policy Innovation. Ministero del Lavoro e delle Politiche Sociali.
Zampetti A., Sabatini Scalmati P. (2014), Agricoltura sociale e progettazione educativa. La costruzione di percorsi destrutturati in contesti agricoli multifunzionali. In Orientamenti Pedagogici. Vol. 61, n. 3, Luglio 2014 (pp. 585-602). Edizioni Erickson-Trento.
Torquati B., Tittarelli A., Vizioli V., Paffarini C. (Ali&no 2018) L'Agricoltura si eleva al quadrato.
Social farming in Austria https://www.greencare.at/
Social farming in Italy https://www.forumagricolturasociale.it/
Social farming in the Netherlands https://www.zorgboeren.nl/
Social farming in Spain https://socialfarmingspain.wordpress.com/
Social farming in Turkey https://www.rehabilitasyon.com/